Against the backdrop of what was a typically eccentric northern California afternoon, I had the pleasure of coming across the likes of Hēran Soun for myself as I prepared to present the acclaimed one-man musical wrecking ball with this year's trophy for album of the year. As eerily calm and tranquil as the COVID era has created outdoor urban spaces, I still don't think circumstances defined the conversation that would ensue between this singer/songwriter and myself on this particular afternoon. In discussion of his album Undeaf, we touch on everything from the concept of layered multitrack recording to the roots of his sound, both aesthetical and social the same. Could I have imagined this sort of an exchange amidst such a cold moment in the history of popular music? No – but then again, I couldn't have predicted coming across an album quite like Undeaf in 2020.
The finer points of Hēran Soun's artistry are defined less by the cosmetics of his music and more by the technique with which he applies his craft to the canvas that is this medium. His attraction to size in songs like "In My Mouth," "A Picture of a Woman" and the brutishly melodic "A Lover Waits" never manifests itself through the swell of the volume exclusively; there's always another arm to this physicality, and as I discussed in my initial review of Undeaf, this physicality is a cornerstone of the poetic value and interpretive relevancy of his style of songwriting. If this guy cares about the mainstream narrative, you'd never know it by talking to him – his prerogative isn't obligatory but self-imposed, which is something I haven't been able to find in a lot of the indie experimentalists evolving out of the new Bay Area scene lately.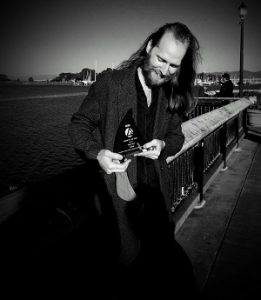 Hēran Soun has already recorded a follow-up to Undeaf, and judging from the ambitiousness of his AOTY-winning submission in this year's release, I would expect nothing but stellar handiwork out of his next project as well. Where the late 2010s were shaped by genre-benders on the left side of the dial, here we find an artist that seems intent on creating something that is neither a hybrid nor a third or fourth-gen contribution to an alternative movement spurred forth decades ago. Truth be told, Undeaf has the hallmarks of an awakening, a new chapter in the bridging between noise rock and melodic pop songcraft that could produce something quite incendiary among the underground scene in Cali and beyond a lot sooner than some critics might be inclined to acknowledge.
After an intense horse race to the finish line, I sincerely congratulate Hēran Soun as the winner of Indieshark's Album of the Year award. Despite some fierce competition from releases both domestic and foreign alike, Undeaf comes in as our unequivocal favorite LP of 2020, and if you haven't already taken the opportunity to explore its fifty-six minute tracklist I would highly recommend doing so on the next occasion you find yourself browsing for unmissable up and comers.
Read my original review posted back in November 2020: https://indieshark.com/awards/pick-of-the-week/heran-soun-undeaf-lp/
Once again congratulations to HERAN SOUN for having the courage to remain true to himself as a "total package" singer/songwriter/entertainer. #HeranSounAlbumOfTheYear2020
Mark 'the shark' Druery