2022 in retrospect was perhaps an underwhelming year for a lot of music enthusiasts, as many of the trends we started to see pop up towards the beginning of 2020 more or less solidified into cultural standards in the past year, but for those with a taste for the eclectic, the past twelve months were not a loss at all. From the elegant emissions of David Sparrow in his Beggars & Choosers LP to more daring psychedelic experiments ala Panda Riot's immersive and well-titled Extra Cosmic, today we look back at some of the biggest hits of the indie circuit in 2022 as well as the records we simply couldn't put down.
Winning Album of the Year through a dexterous display of emotion and keyboard prowess, Elizabeth Sombart stole the hearts of many through Singing the Nocturnes, and whether you're a big Chopin fan or simply needed a classical rewind this year, this was the record to own from the moment it hit record store shelves forward. Although much more intellectually demanding than some of the pop records the shark covered in 2022, Sombart's new album didn't have any difficulty in winning favor with critics and fans the same thanks to a heady tracklist as accessible as it was brooding.
A close runner-up for AOTY was instrumental rockers Go to Space Die's Red Air Don't Care, which both captured the essence of moving, physical post-rock as it's matured in the past two decades whilst also hinting at alternative themes I can't wait to hear more of in their next LP. On the opposite end of the spectrum aesthetically, we found Jonah Leatherman working a lot of magic behind the mic in his eponymous debut, which narrowly lost the shark's trophy but remained the most-played complete tracklist of 2022 thanks to its easy-going lyrical wit.
While Monsoon's Ghost Party was the sleeper indie rock hit of the season, it felt like every not the introduction to a band on the cusp of breaking the mainstream. Psychedelic components were never far from reach this year, replacing the subtle surrealism of the late 2010s all too bluntly, but they didn't overwhelm soloists like 148, whose album Simpati was already trending at Indie Shark long before it saw an official release date worldwide. Where some struggled to define what contemporary postmodernism could sound like in 2022, every artist here nailed it – all the while making a unique impression their rivals just couldn't.
There can be no review of the past year without mentioning the superb Le Olam from Alex Krawczyk, who is the one artist I am most excited to hear more from in 2023. Ambition defines every moment of this LP, and like the other elite releases we heard in the past year, it has the look and feel of a boundless experiment free of mainstream rules where it matters the most. Something tells me this is just the start of this player's ascent, and from the looks of his trending presence online, the fans agree with me completely.
As 2023 gets underway, these albums will likely stay handy for those who appreciate the best parts of independent music, but as anyone who follows the shark knows by now – the underground is as unstoppable as it gets, and top-shelf output is almost to be expected. Congratulations to Elizabeth Sombart and all submissions for AOTY in 2022, I doubt we've heard the last from any of these players.
(2022) ALBUM OF THE YEAR – Elizabeth Sombart – Singing The Nocturnes (LP)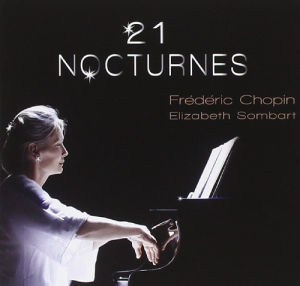 The best music is neither practical nor predictable; but with that said, the most refined music follows an order that takes years, and often decades, to master. In her Album of the Year Award-winning effort Singing the Nocturnes, Elizabeth Sombart demonstrates the kind of poise that is required to follow such an order, and although the competition she faced for this coveted top prize from Indie Shark was quite stiff, to say the least, it was ultimately her distinct manner of play that made this LP the best of the year by far. Singing the Nocturnes exploits our general concept of Chopin's best work delicately, allowing for its star player to reinvent some of the material from an arrangement standpoint without deviating from the core aesthetics of the original composer at all. It's often difficult to break down a cover album, particularly when its content is as familiar and at times stoic as what we hear in this record is, but through her admirably unique approach to the piano, this is a musician who demands our attention around every turn, even at moments that might have otherwise felt just a bit stock if presented by a different set of hands.
Without lyricism and devoid of production filler that would normally give an artist a lot of breathing room, especially in a recording as epically stacked as Singing the Nocturnes is, Elizabeth Sombart favors indulgence when and where it counts for something in this album's tracklist, which granted her a significantly different profile from what a lot of other performers have been going with in the past year. 2022 was a banner moment for a lot of the minimalist artists who had been desperately trying to make something out of the surrealist movement in pop music over the past five years, but in this record, we find a pianist who is almost gleeful about adopting excess melodic and physical the same.
It would be unthinkable on the part of her closest contemporaries in and out of the underground, but that's part of what drove me so wild every time I sat down to hear Singing the Nocturnes; it goes places, sometimes rebelliously, that others just don't have the moxie nor the gumption to travel. Striking as some of the cosmetic elements in these tracks happen to be, they remain augmentations of an original work that has stood the test of time quite well and all the more serves as an ironic introduction to who this performer is (for those who were not already bewitched by her previous work).
Indie Shark proudly presents Elizabeth Sombart with our award for Album of the Year 2022, and if what this artist has exhibited in her acclaimed LP is any sort of reflection on her depth as a pianist in multiple capacities, I would expect to see her name in the headlines again in the next year. Singing the Nocturnes is the very first album to win this trophy without offering a shred of original material per se, and yet it doesn't feel like a record filled with covers we could have unearthed from a bevy of sources. Sombart imparts personality in a year that felt quite bleached and underwhelming for those of us who were turned on by the excitement left over from a landmark year for indie music in 2021, and as someone who takes a considerable amount of time perusing the deepest realms of the underground for smart listens, I can attest to the authenticity and uniqueness of this piece. Once again, congratulations to one Elizabeth Sombart for her impeccable and award-worthy work on this LP.
Read my original review posted back in January 2022: https://indieshark.com/awards/pick-of-the-week/elizabeth-sombart-singing-the-nocturnes-lp/
Once again congratulations to Elizabeth Sombart for amazing tribute to Pianist Frederic Chopin. #elizabethsombartalbumodtheyear
Mark "The Shark" Druery